Lucid Puts You in Full Control of Your Phones & Tablets
Midwest integration specialist explains why controlling your environment from your phone and tablet is so compelling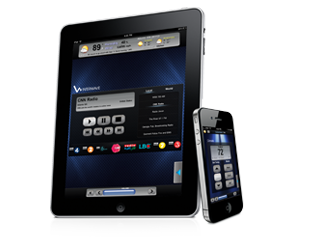 Imagine you are home right now and want to watch HBO. How many clicks does this take from your current remote system? How many remotes does it take? Where is the remote? Everyone here at Lucid Integrated Systems understands the frustration of remote overload, with too many devices and too many buttons that need pushing before you can relax and settle in for a fun time.

Now, imagine you tap an HBO icon on your phone or tablet and the following happens:

1) The lights dim and the shades drop 2) Your TV turns on 3) The correct input is automatically selected 4) The cable box turns on 5) The correct channel is selected 6) The audio video receiver turns on and accepts the cable box input 7) The kids fall deeply asleep… all with the touch of one button!

Okay, we confess that putting your kids to sleep is a bit of a stretch but we can do away with the need for dedicated or universal remotes. We are specialists in setting up your phones and tablets with clever intuitive apps specifically designed and programmed for your home. From your iPhone, iPad, or Android device we can program these to control your lights, your shades or drapes, your thermostat, your audio and of course your video.

When you work with Lucid for professional integration, we can connect you to all the technology you desire through one device. This means you can control your lights, your shades or drapes, your thermostat, view your cameras, and even turn on the fireplace, all from your phones or tablets.

The advantages over a universal remote (or many basic remotes) are obvious to most people today, such as the ease of use, clutter reduction, expanded capabilities and the wow factor. What is more difficult for some people to see is the trending use of tablets and smartphones while watching TV and doing other activities. According to recent studies almost half of smartphone and tablet owners are using their devices as a second screen to engage more deeply with what they are watching and to search the Web, shop online, socialize, and or to engage in other activities. Studies show that close to 80% of smartphone owners have them within reach for 22 hours each day. At Lucid we combine the social trends and technology trends to enable our clients to enjoy the excitement, curiosity and productivity available with their phones and tablets.

Care for a demo? Simply click here (http://lucidintegratedsystems.com/livingroom-demo/virtual-livingroom) to experience an interactive virtual demo on the Lucid website!

For more information on how we can enhance your entertainment pleasure, or how you can get the most out of a home automation upgrade, don't hesitate to give Lucid Integrated Systems a call. We can integrate the newest technology to change the way you live!

No video selected.