How many ways can you make your television disappear?
Midwest home technology professionals reveal some new options for camouflaging displays
When constructing and designing "smarter" homes and businesses, it is important to have a winning team of contractors, interior designers, and architects working on your behalf. If one component is out of place, the timing and scope of an entire project could be in jeopardy.
As an audio video integration specialist, Lucid Integrated Systems has been called upon to work with many Wisconsin and Minnesota interior designers and
craftsman to assist in the technology design process. Everyone loves the benefits of technology, but getting technology into a given space without compromising the integrity of the interior designer's vision takes skill and experience.
Most designed spaces have a television, but sometimes the client or interior designer would like for it to disappear into the intended design when it is not in use. In these cases, there are several techniques that we use to create the appearance of a non-existing display or television in a room. To integrate many of these techniques, it is vital for all craftsman and designers to communicate. When everyone works together, the final results can truly be amazing!
Here are just a few ways we hide technology when integrating a project.
Television Lifts
There are many types of television lifts. They can come from under a bed, from the ceiling, or a piece of custom cabinetry. It is of the utmost importance for the interior designers, AV integrator (Lucid) and other craftsman to work together in incorporating a TV lift to make sure all elements and spaces are in place and allocated.
Mirror Televisions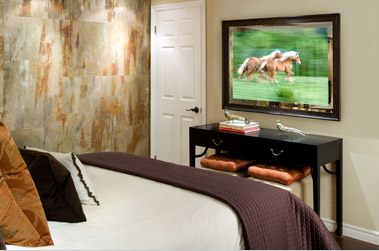 Why have a plain black screen in the middle of your living room when it could be a mirror? Besides just the living space, mirror TV's are great to embed in the master bathroom, so you can watch the morning news while getting ready for work!
Motorized Art
If you want to get super cultured, you can frame your TV like a piece of art and incorporate a motorized painted canvas to roll up and down as the TV is powered on and off. When the TV is not in use, your favorite work of art on display!
How much you reveal is up to you:
Everyone loves his or her technology, but sometimes it's best for it not to be seen. We help interior designers (and their clients) realize their vision while still incorporating all the conveniences of modern technology.
Give us a call for even more suggestions on how Lucid Integrated Systems can bring your build to life!