Can Technology be Inconspicuous?
Lucid Integrated Systems helps you explore the benefits of hidden hardware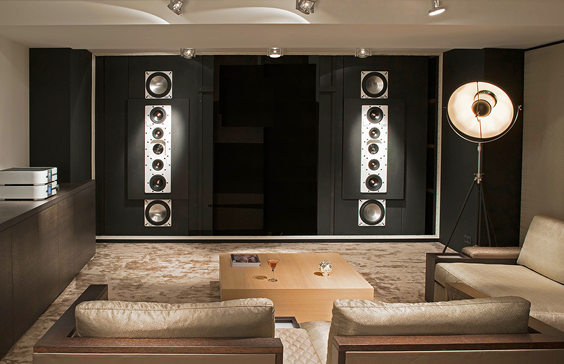 It's all about balancing performance and aesthetics, creating the perfect marriage of both form and function. At Lucid Integrated Systems, we believe technology should enhance your space, while never detracting from your interior design.

We don't just make various "smart" home automation solutions work together seamlessly (such as lighting control and motorized shading, home theaters and media rooms, energy management, music and video distribution and more); we integrate the technology to blend in with your décor.

Invisible Speakers
Sometimes speakers should be heard and not seen. Lucid provides a number of options for bringing amazing audio into every room without having cumbersome technology get in the way. For the best look and quality, we recommend in-wall speakers with paintable frames and grills custom-matched to your décor for a smooth and finished look.

Wires can disappear as well. Professionals integrators (like Lucid) can make wires vanish by integrating them along the trim or through the walls by installing terminal plates to connect your speakers. Other options include under carpeting or along your baseboard using "flat" cables or even through the ceiling.

Hidden Screens
If you're doing new construction, or major renovations, we submit that well-blended technology means a strong collaboration between the trades. Lucid works with interior designers, builders, carpenters and other craftsmen to provide a media environment that has everything working in unison.

If you want to watch television in the kitchen while making dinner, we can build you a custom lift to raise your television out of your granite counter top, and to lower it when you finish. Bedrooms can become media rooms, with under-bed lifts, while family spaces can transform into home cinemas with motorized screens descending from automated ceiling doors. We really have reached a point where, if you can imagine it, we can make it happen.

One-touch Automation
We build our whole-home music and video distribution systems on one central network that serves as the foundation for all of your entertainment and home technology needs. Not only can we play your favorite music and videos from multiple sources, these systems can also be integrated into a total home automation system for complete control.

Want to listen to some jams while going for a midnight dip? With one-touch automation you can push the "Spa" button on your phone, tablet or even a wall-mounted touch panel, and have your system turn on pre-dimmed patio lights, heat up the hot tub and begin to stream your favorite Pandora playlists.

At Lucid Integration Systems,we have years of experienceblending technology with aesthetics for a comfortable, sophisticated and high-tech luxury home! Interested in how we can transform your space? In Minnesota, Wisconsin or virtually anywhere throughout the Midwest, call Lucid to learn about the ways whole home music and video distribution can transform your home!

No video selected.
Related Articles